Shopping Cart
Your Cart is Empty
There was an error with PayPal
Click here to try again
Thank you for your business!
You should be receiving an order confirmation from Paypal shortly.
Exit Shopping Cart
Making the world a greener place
Impatiens, New Guinea impatiens—
Impatiens wallerana
Family Balsaminaceae (Balsam family)
Plant Identification
Impatiens are annual or perennial plants.  Perennial species are often grown as annuals.  Flowers bloom throughout the summer and vary in color, which includes pink, white, red, purple, and orange.  Impatiens are usually planted in containers or borders and attract hummingbirds.
Optimum conditions for growth
Impatiens require regular water and, depending on species, do best in partial or full shade and prefer moist well-drained soils.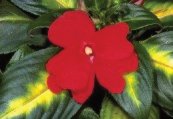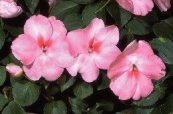 Pansy, Violet—
Viola
spp.
Family Violaceae (Violet family)
Plant Identification
Pansies and most violets are perennial plants, although they are often grown as winter annuals in mild winter areas. They are grown mostly in borders, edges, or containers and sometimes used in rock gardens. Flowers may bloom in spring through summer and even during the winter in mild climates. They are brightly colored including blue, red, purple, yellow, and other colors. Many flowers have dark blotches on the lower three petals.
Optimum conditions for growth
Pansies do well in full sun or partial shade while violets do better in some or complete shade. They require regular water. Some species can tolerate some drought. Removing old flowers can extend the blooming period. Plants often need to be removed during the summer in very hot areas as they get ragged.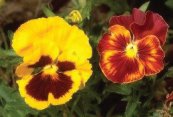 Begonia—
Begonia
spp.
Family Begoniaceae (Begonia family)
Plant Identification
Begonias are perennial plants, but many are grown as annuals.  They are often grown in potted plants or in beds.  Begonia flowers bloom in early summer through fall and are clustered and come in various colors such as white, yellow, orange, red, or pink.  Leaves are sometimes multicolored.
Optimum conditions for growth
Begonias do best in filtered shade or bright indirect light.  They require regular water, rich, well-drained soil and prefer some humidity.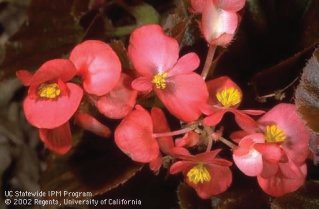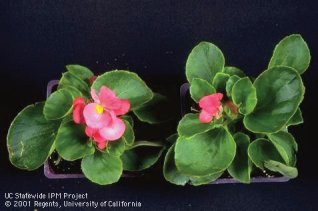 Petunia—
Petunia x hybrida
Family Solanaceae (Nightshade family)
Plant Identification
Petunias are low-growing perennial plants generally treated as annuals. Leaves are thick and somewhat sticky. Flowers may be ruffled or funnel-shaped and are of various colors including white, yellow, red, blue, and purple. They bloom from spring into winter. Petunias are often grown in beds, containers, window boxes, or as ground covers.
Optimum conditions for growth
Petunias require regular water and fertilizer, and they must be planted in soil that drains well. Plants do well in areas with full sun. After the bloom period, remove old flowers to promote new plant growth.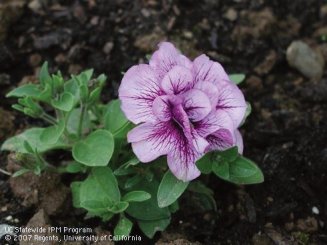 /